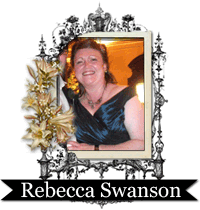 I have been having so much fun creating with 'Witches Brew' this is a must have Printable Collection. To purchase this for yourself head over to
Tsunami Rose's Etsy Store
.
For this project, my second DT project for Tsunami Rose Designs, I started with a Jumbo Scalloped tag base. I choose the Journal Style paper for the base and edged it in DI Black Soot to really make the paper pop. I fussy cut the Arsenic Poison label and the Witches Brew tag. The tag I adhered with some double sided tape and then distressed and rippled the poison label and again edged in Black Soot to give it a really dark and tattered look. I die cut some Cheery Lynn Fancyful Florish Dies in black cardstock and added them around the tag behind the Witches Brew tag and tucked in behind the flower cluster I created in the bottom right corner. I had no black flowers but used some Graphite Tattered Angel spray to achieve the dark shimmery rose buds tucked in the cluster with rust and orange tone buds. This backed with some leaves encrusted with some bling and pearls to make them pop. The wooden bottles are from Kerry at WhichCraft do you do and were fabulous to add to this project as I cut bottle labels from the papers and inked them to make them look like potions and poisons. I also had some Spider Web in my stash and added it to the top left and added a spider to finish the effect. I also had to use the skull from the skeleton from the collection as it was just screaming at me to be used. So I used my 1" circle punch and cut the skull out and added it onto a bottle cap and sealed it with glossy accents. The bottom of the tag I added 2 different laces from my stash and a little Black Chinese Braid. Finally I sprayed some cream seambinding with the same Tattered Angel spray to achieve the grey shimmery binding on the top.
I hope you like my creation, please feel free to head over to my
YT channel
to see it in more detail.
Thank you so much for stopping past, your comments and encouragement I appreciate immensely.
Great Big Huge Hugs
Becca xxx
Tsunami Rose Designs Links