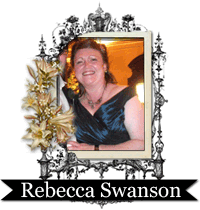 I am delighted and honored to let you all know that I am a DT member for
Tusnami Rose
.
I have created my first DT project using the fabulous 'Witches Brew' 5.7 printable journal kit. I love the designs and colours of this collection and they have a brilliant Halloween feel to them.
For this card I used a 5.5" x 5.5" corrugated kraft card blank. I matted and layered some black cardstock with the spider web paper from the collection. I fussy cut the 'Happy Halloween', 'Trick-or-Treat' and the tag with the witch and pumpkin on it and popped them up using foam squares. I added Chinese braid and some black lace trim from my stash along the top edge. I also used a few small 10mm flowers from my stash. To make the tag with the witch on it pop a little more I spun some black and white twine around it and added a black button from my stash. I finished off then with some bright orange stickles in the button centers and also edged up the flowers too.
Click here to see this card in more detail on my YT Channel
I hope you like my first DT project for Tsunami Rose. Please visit
Tsunami Wonderful Etsy store
to make your own purchases. Be warned though there are so many wonderful collections you will be spoilt for choice. Also if you are on Facebook, please come over and Like
Tsunami Rose's page
.
Great Big Huge Hugs
Becca xxx
Tsunami Rose Designs Links